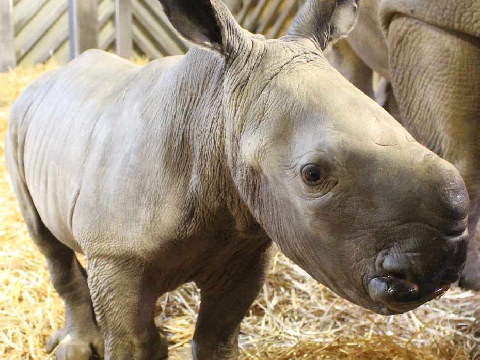 The zoo says the calf is strong and healthy (Colchester Zoo).
The zoo has described the new addition as 'brilliant news' for the conservation of the species which is listed as 'near threatened' on the International Union for Conservation of Nature (IUCN) Red List.
They discovered their White rhino Emily was pregnant in May 2019 and on Saturday 4th January she gave birth to a female calf, which the zoo says is healthy.
Emily was monitored around the clock via CCTV by the Animal Care Team from December so they could ensure they were available when she went into labour.
Everything reportedly went as smooth as her previous two births, and both Emily and her calf are said to be doing well. The new addition took some time to find her feet, but was up and moving within a few hours.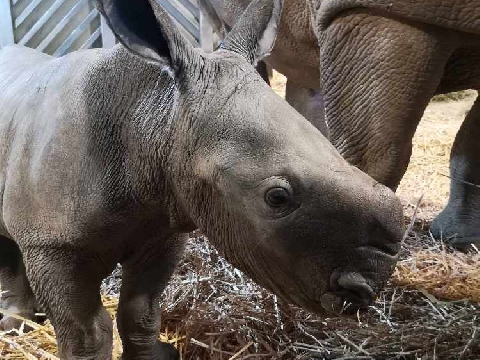 She's the fifth White rhino to be born as part of the zoo's breeding programme (Colchester Zoo)
They will both remain in the indoor area of the rhino house to begin with, but could be given access to the outdoor hardstands on warmer days.
As the calf grows she will be gradually introduced to the main paddock and her neighbours living at the Kingdom of the Wild, which is the home to various African animals.
Anyone hoping to get a glimpse of the calf can do so via the balcony inside the enclosure, or wandering around outside on warmer days. There is also a cam on display from the top viewing area in side the Kingdom of the Wild building.
She is the third calf Emily has given birth to with the zoo's male White rhino, Otto, but will not be named until she is a little older and her personality begins to show.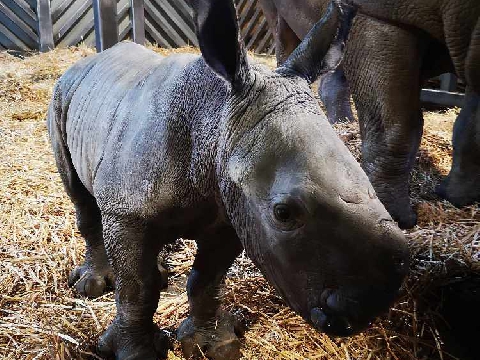 Colchester Zoo is welcoming African name suggestions for the calf (Colchester Zoo)
You can see a video of the new arrival here.