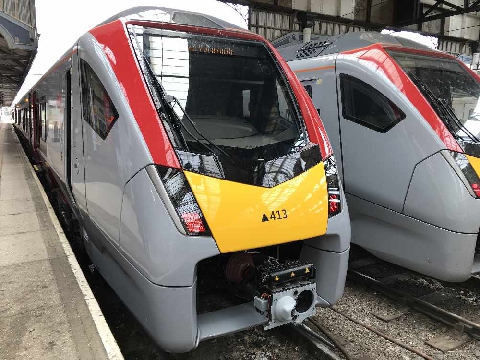 Greater Anglia celebrates the official launch of their brand new trains.
Today, 4th September, the region's train operator has celebrated the official launch of their brand-new trains.
It began at Norwich railway station and was hosted by Greater Anglia, Swiss train manufacturer Stadler and train leasing company Rock Rail East Anglia.
Commuters in the station were blown away by the train operator's specially commissioned animatronic giant red hare, before VIP guests from the local community and businesses moved to platform five for speeches from representatives involved in the project.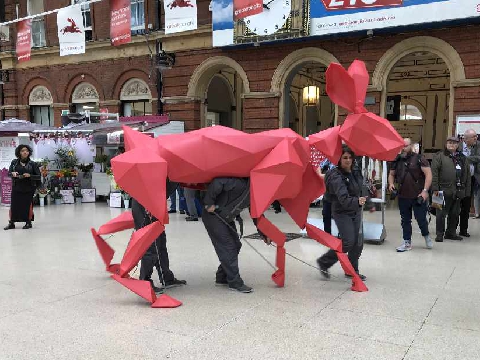 Greater Anglia's giant red hare was a surprise for many commuters.
The bi-mode trains, which the train operator describes as 'state-of-the-art', are powered by diesel and electricity and are being rolled-out on the network three years after the contract to buy 58 new machines from Stadler.
They will be replacing the entire existing fleet on the region's rural routes.
These are some of the first trains to be financed with long-term investment from pension funds and insurance companies through Rock Rail East Anglia.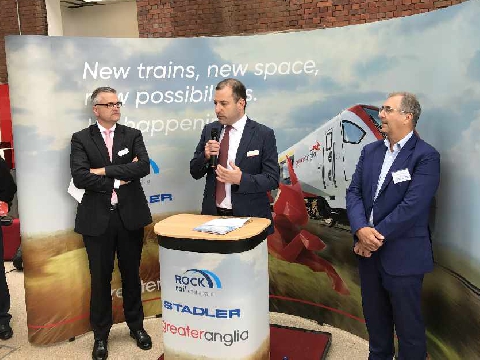 Greater Anglia MD Jamie Burles addresses guests, alongside Stadler's Thomas Ahlburg and Rock Rail's Mark Swindell.
Greater Anglia's managing director, Jamie Burles, said: "Our customers are telling us they think our new trains are amazing. We promised new trains would improve their journeys and that's exactly what they're doing.
"Feedback has been brilliant. Customers love the USB and plug points, the improved accessibility, the longer trains with more seats, the smooth, quiet ride and the comfortable seats.
"We've now got new trains in service on the Norwich-Great Yarmouth-Lowestoft and Norwich-Cambridge routes and we're looking forward to rolling them out across the rest of the network."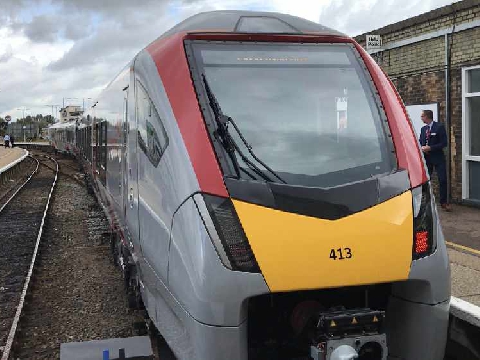 Guests were taken on a trip to Great Yarmouth to celebrate the launch.
Thomas Ahlburg, who's the group chief executive of Stadler, expressed his excitement about the introduction of the new trains: "Our new trains combine outstanding passenger comfort with leading edge technology. After months of hard work, we are delighted that they are being introduced into service.
"Stadler has a reputation for designing and producing excellent products, tailored to the needs of customers. The successful roll-out of these trains is testament to this, consolidating our position as a key player in the UK market.
"The coming months will see the electric trains open their doors to passengers. I am confident that they will enjoy as many plaudits as the bi-modes."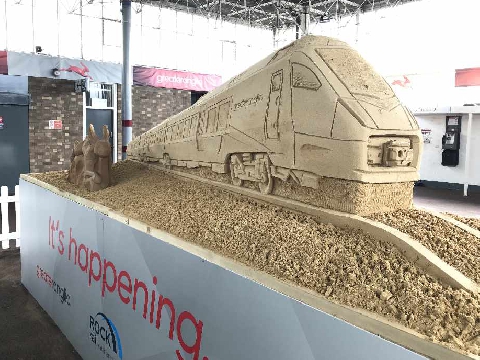 Guests were welcomed to Great Yarmouth station with a sand sculpture of the bi-mode train.
Greater Anglia is getting 38 bi-mode machines, made up of 24 four-carriage and 14 three-carriage trains, which will run between Norwich, Great Yarmouth, Lowestoft, Cambridge, Sheringham, Ipswich, Felixstowe, Peterborough, Marks Tey and Sudbury.
There will also be an additional 10 electric trains for the inter-city route between Norwich and London Liverpool Street, and a further 10 for the Stansted Express service.
Rail Minister, Chris Heaton-Harris said: "These brand new trains will bring real, tangible benefits for passengers across East Anglia, including better accessibility and improved Wi-Fi.
"Our priority is delivering a truly passenger-focused railway that sees our trains running on time. This investment will help deliver that, with greener, cleaner journeys and a more comfortable and reliable service for passengers."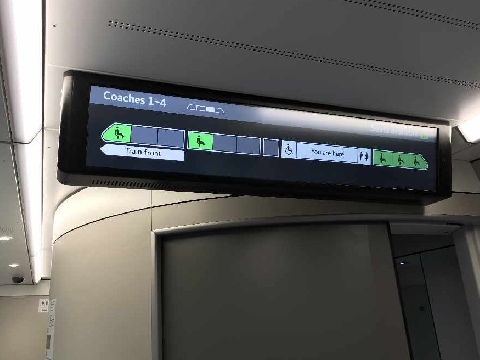 One of the additions on the new trains is improved information screens.
Each train is longer with extra seats compared to its predecessors, along with air conditioning, USB and plug points, six bicycle spaces and improved passenger information screens.
Accessibility for wheelchair users and those with pushchairs have also been improved due to the new fleet having lower floors and sliding doors which bridge the gap between the train and platform.
In total, Greater Anglia are replacing all of its existing trains with 169 brand new machines, which they say is the most ambitious fleet replacement in UK rail franchising history.