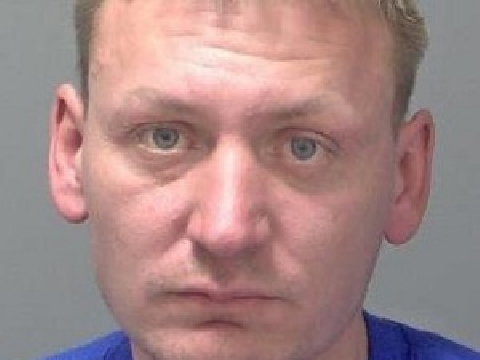 A man who avoided warning signs and recklessly drove his vehicle onto a level crossing has been handed a prison sentence. 
Giedrius Puisys, aged 38, of Camden Road, Ipswich, appeared before Ipswich Crown Court yesterday (13/04), where he was handed a 12 month prison sentence and a three year driving ban.
Shortly after 1.20pm on 2 February this year, Puisys was driving his Citroen Xsara towards Routs user worked level crossing on Felixstowe Road in Ipswich.
Puisys left his vehicle, approaching the closed gates and opened them, so he could drive over the crossing.
Meanwhile, the level crossing alarms were activated, warning drivers of an approaching train.
Without following the correct process, the defendant drove onto the level crossing and was narrowly missed by a passing freight train travelling at 55pmh.
Officers are today releasing the footage of the incident, which shows how close Puisys came to being struck by a train.
Puisys was quickly identified by officers and charged with endangering safety of a person conveyed by the railway and driving whilst disqualified.
He was remanded to police custody and later pleaded guilty to these charges.
Inspector Steve Webster from British Transport Police, said: "Frankly, Puisys is incredibly lucky to be alive, we estimate he was one second away from being struck by the train.
"The freight train was travelling at speed, and with an estimated weight of 1,600 tonnes, would never be able to brake in time.
"Puisys failed to read and obey the instructions at the crossing, he put his life and the life of others in grave danger.
"I thoroughly welcome the custodial sentence handed by the judge.
"This should send a very clear message to other road users, never disobey the safety processes in place at level crossing, they are there to keep you safe."
Rupert Lown, Network Rail's director of safety for Anglia, said: "This was absolutely reckless behaviour by the driver who only narrowly escaped with his life.
This is a very busy line with over 60 freight trains a day in addition to passenger services.
He was incredibly lucky, the consequences of his actions could have been very different."