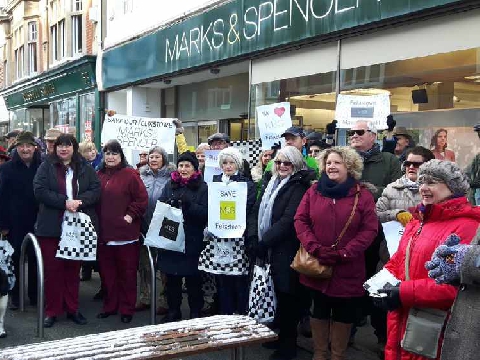 Campaigners had been fighting to save the store (Felixstowe Forward)
The decision to close Felixstowe's Marks and Spencer store has been confirmed by the company.
The department store chain have been consulting with employees on the closure, but say they are now in a position to announce the shop's last day of trading will be the 27th April.
In a letter David Leach, M&S's Government Affairs Manager, told Suffolk Coastal Deputy Leader Councillor Geoff Holdcroft staff will be offered other positions with the company.
He said: "The consultation process with employees has reached the stage where the proposal to close the store has been accepted.
"We are continuing to consult on the people impact of the closure and colleagues will either be redeployed or offered redeployment to other M&S stores before redundancy is considered.
"We recognise that you will be very disappointed by the store closure, but we are convinced it is the right commercial decision for M&S for the reasons we have previously explained."
A public campaign to reverse the closure has been running since it was first mooted in January.
Over 3,500 people have signed an online petition asking M&S not to shut the store, while protests have also been held outside the shop on Hamilton Road.
The campaigners have been supported by Suffolk Coastal Council, as well as the town's MP Dr Therese Coffey.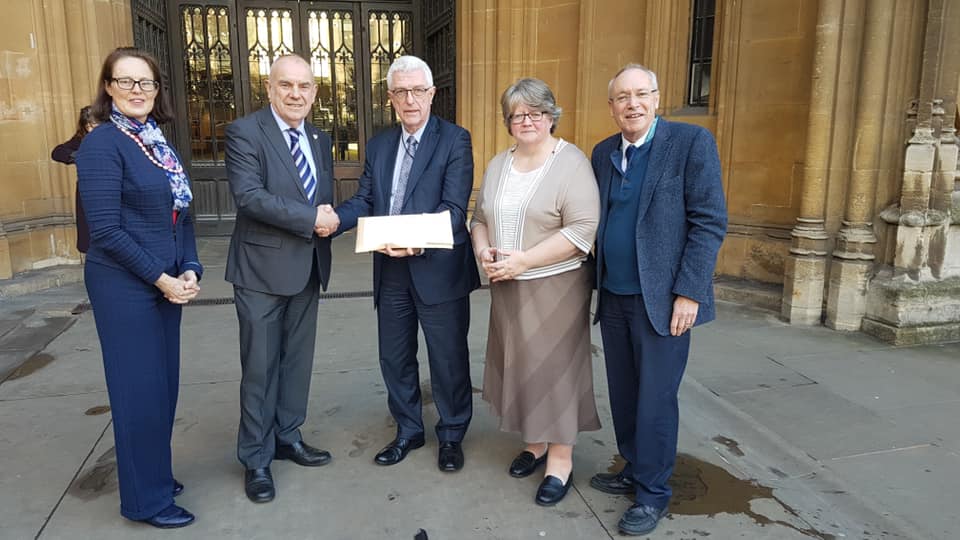 Dr Coffey and representatives from Suffolk Coastal presented the petition to M&S's Head of Public Affairs Mark Ginty in Parliament (Therese Coffey)
Reacting to today's news, Cllr Holdcroft said: "I am bitterly disappointed to hear that Marks and Spencer intends to go ahead with its plan to close its store.
"Despite saying it was consulting with people over the proposal, this appears to have been a done deal from the beginning, as Marks and Spencer has blatantly ignored the heartfelt protests of local people.
"What is particularly disappointing is that Marks and Spencer has also chosen to discount the strong business case that we have made for the shop to remain open in some form, based on the predicted continued growth of Felixstowe's economy.
"As a town, Felixstowe is very much on the up, with record numbers of visitors coming this year, housing development being planned and businesses investing in the area, so this bucks the positive economic trend in the area.
"I hope that this prime site will not stand empty for long, but will be snapped up by a more far-sighted new business."