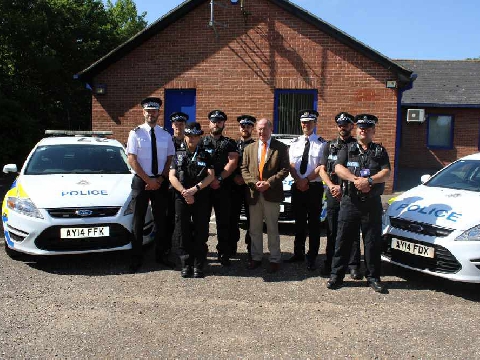 Picture credited to Suffolk Police
A new team of police officers is using Suffolk's road network to tackle serious and organised crime.
The Operation Sentinel Team is aiming to deal with offenders who use the county's roads to commit their crimes.
Two further groups are planned for other parts of the county by the autumn.
Suffolk's Police and Crime Commissioner Tim Passmore, has told us it's been funded by an increase in his share of the council tax bill:
"Suffolk is one of the safest counties in the country, but that's not to say there aren't challenges ahead and that is why I made the decision to increase the policing element of the council tax by the maximum possible earlier this year.
"This additional funding has enabled the Chief Constable to increase the police establishment to form this proactive team to help fight organised crime.
"I'm well aware it was a big increase and I understand it was unwelcome news for some people, but this will enable us to improve detection rates and make Suffolk a hostile environment for criminals, which is what people want.
"To be proactive, we need to have the resources and Op Sentinel give us the extra officers on our roads that we need. It won't change everything but this is a major step-change in the fight against crime in our communities and I welcome this pre-emptive approach."
Chief Constable Steve Jupp said:
"The nature of policing is constantly evolving and protecting our communities from harm is our priority.
"This new team is another example of Suffolk Constabulary's commitment to maintain proactive policing to prevent criminals causing misery in Suffolk.
"The introduction of Op Sentinel demonstrates that we have, and will continue to, listen to the public who we serve and who want as many officers on the frontline as possible.
"This team will ensure we use appropriate policing tactics and technology to target those individuals who cause the most harm to our local communities.
"They will be a valuable addition to the overall policing structure in the county to ensure we remain on the front foot and deny criminals use of the roads, and put them before the courts."
Head of Crime, Safeguarding & Incident Management, Detective Chief Superintendent Eamonn Bridger said:
"Serious and organised criminals use the road network extensively in order to facilitate their criminal activities. The Op Sentinel team will allow us to intercept offenders to disrupt such activity, seize their assets and then convict them to protect our local communities.
"This f'ront-foot' approach is exciting and it allows us to keep building our constantly evolving intelligence picture and respond intelligently by positioning resources appropriately."
"This team is about actively taking the fight to those who are either committing, or intending to commit, crime in Suffolk. It acknowledges our continual need to respond effectively to the fluid nature of organised and serious crime gangs, such as dealing in class A drugs, serious violence as well as cross- border criminality.
"The use of ANPR and the other technologies gives us the opportunity to respond more swiftly and increases the likelihood of criminals being arrested. This approach demonstrates that we are doing all we can to ensure communities are kept free from crime.
"It sends a clear message that Suffolk is not a 'soft touch' when it comes to serious and organised criminality – we are determined to identify and bring such offenders to justice."