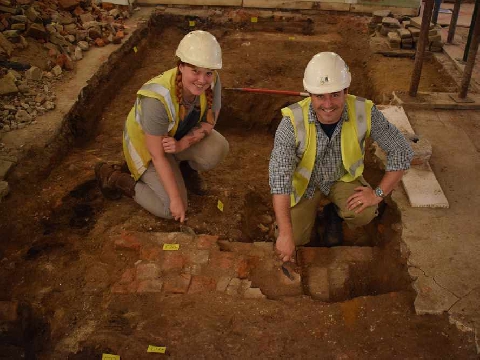 Picture credited to Colchester Archaeological Trust
Experts say a ram-raid at a Co-Op store in one part of Essex has unwittingly unveiled some rather special local history.
Criminals targeted the shop in Dedham in December last year, causing major structural damage in their attempts to steal a cash machine.
But since then, experts from Colchester Archaeological Trust have found a timber-framed structure dating back to 1520, underneath the shop floor.
Although the ram-raid badly damaged the shop front, this section of the building dated only from the 1950s.
Originally built in 1520, the timber-framed structure would have been a high-status merchant's house occupying one of the most conspicuous locations in the village, immediately opposite the parish church.
Their report also shows they've discovered a two-handled tripod cauldron dating from the late 16th to early 18th century.
Councillor Tim Young, Portfolio Holder for Business & Culture, said:
"This is a very positive story about something great for the heritage of the Borough, coming out of an apparent disaster.
"I am really pleased and grateful to the East of England Co-op for their collaborative working with our Planning Service, which has revealed so much about the history of this fascinating building and gives us so much insight into the past lives and economy of Dedham and the borough.
"Celebrating our heritage is part of our commitment to making a Better Colchester and I am pleased that a hidden piece of our heritage has come to light through this initially unfortunate incident."
Dr Jess Tipper, Colchester Borough Council Archaeologist, added:
"We are delighted with the evidence these reports have revealed about the rich history of this important part of the borough and the wealthy merchants who lived and traded there."
Nick Denny, Joint Chief Executive for the East of England Co-op, said:
"We worked cooperatively with Colchester Borough Council to ensure that the secrets of this fantastic building could be recorded for future generations.
"We are delighted that the findings have helped give a further insight into this historical and wonderful village."
The East of England Co-op store on the High Street, Dedham, will reopen on Tuesday 30 October at 9am.